Review: Adobe ImageReady 1.0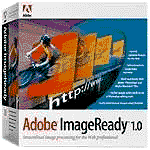 Product Information
Published by: Adobe Systems
Web: http://www.adobe.com
List Price: $299
Street Price: $179
System Requirements
System 7.5.5 or later (Mac OS 8 recommended)
16 MB of application RAM (32 MB recommended)
20 MB of available hard disk space
Color monitor
While some of you may have the "I hate the company, love the products" attitude towards Microsoft, I cannot help feeling it towards Adobe. Our greatest ally may have become our worst enemy. It takes no genius to recognize Adobe's impact on the computer design industry as a whole. This itself is something to fear. Microsoft is not bad "per se," it is the domination drive behind it that is. Some people might call it good business, but I call it backstabbing. Why has a company like Adobe, that Apple helped so much in the design industry, decide that wintels are the winning chip? Even simple things like tutorial product snapshots on Adobe's site are becoming those of it's wintels' product lines. It makes me sick.
I can not deny, however, that Adobe has an exceptional range of products that are a must-haves for any serious designer. In plain English, even if I wanted to stop using Adobe's products...I couldn't. The company also recognizes the importance of being online (hmm...thinking about it, it really does remind me of someone) so it released an arsenal of programs to facilitate Web presence, one of which is ImageReady.
ImageReady is an amazing idea made to work. A cross between vector and bitmap editing, the program is a joy to use. It works similarly to Macromedia's Fireworks and even thought it is less featured, has the advantage of making Photoshop users feel right at home.
For those of you who have never tried either ImageReady or Fireworks, I will try to describe briefly how it works. Basically, you can either use Bezier curves (also known as paths) or direct painting (brushes) to draw any image. Then the program optimizes it for the Web according to your settings (giving you live previews in the mean time). Add to that many more Web-related features like URL embedding, automatic picture splicing, and animation; and you get an indispensable tool for Web designers. No more switching back and forth between your programs. ImageReady helps you prepare all your Web images in one place. Some of the more prominent features are:
Optimize palette that provides interactive control over compression settings


Support for comparing and saving files in GIF, JPEG, PNG-8, or PNG-24 format


View Browser Dither command that simulates browser dithering to eliminate guesswork and allow easy adjustment of an image's color palette


Actions palette that allows the easy recording of editing steps that can then be replayed on any file or batch of files


Easily create image map hot spots by assigning URLs to any layer


Support for layers and other Photoshop file features to allow easy roundtrips from ImageReady to Photoshop and back


Support to open files in any of the following formats: PICT (Macintosh only), Photoshop, GIF, JPEG, PNG, BMP, PCX, PXR, TGA, TIFF, Illustrator, PostScript, EPS, and PDF


Core set of Photoshop tools to provide editing capabilities, including selection, painting, erasing, and resizing, as well as filters





Editable text layers to allow easy formatting and changing of text at any time


History palette that allows carefree experimentation by permitting the undoing of multiple steps with a single click


Plug-in support that allows the use of any Photoshop-compatible filters and import/export modules
The only two drawbacks I found to the program are its price and the existence of Fireworks (which is cheaper and more featured). ImageReady would make an excellent Photoshop plug-in and is a worthy investment for anyone trying to keep consistency in his software. If, however, you need just one program for your Web needs buy Fireworks.
Copyright © 1999 Jamal Ghandour, jghandour@atpm.com. Reviewing in ATPM is open to anyone. Contact reviews@atpm.com for more information.