Review: Ten Thumbs Typing Tutor 2.2.2
Developer: Runtime Revolution
Price: $25.95
Requirements: Power Mac with System 7.1 or Mac OS X 10.1.3; 16 MB of application RAM; 800 x 600 resolution with 256 colors.
Recommended: Mac OS 8.0; QuickTime 4.0 (to play background music).
Trial: Fully-featured (10 days)
Overview
Ten Thumbs Typing Tutor is designed to teach novices how to type and to help intermediate to advanced typists type with greater speed and accuracy. It uses a combination of structured lessons and typing games to achieve those goals.
Installation and Setup
The download file is a StuffIt archive of the Ten Thumbs Typing Tutor folder. After decompression, the application is ready for immediate use. When you launch Ten Thumbs Typing Tutor for the first time, you are asked to register. If you do not register, the program will function for only ten days. You will also encounter a window displaying a "Tips 'n' Trivia" window.
Tips window with option to hide.
You can avoid this by unchecking the box in the lower left corner. You next see a log-in screen for identifying yourself. Ten Thumbs Typing Tutor allows multiple users per computer. After you identify yourself, Ten Thumbs Typing Tutor presents a "quiz" which asks about your typing goals and your preferences. You can answer the questions on each screen or you can skip sections. You can choose either QWERTY or Dvorak keyboard layouts. Once you have finished the setup quiz, Ten Thumbs Typing Tutor proceeds with the first lesson.
Using Ten Thumbs Typing Tutor
Ten Thumbs Typing Tutor has one main window. Choices (seven program areas plus Quit) appear as eight buttons at the bottom of the window. Ten Thumbs Typing Tutor opens with a structured lesson. The lessons are based on information provided during the setup "quiz" and on performance in previous lessons. Lesson screens contain a block of text to type at the top and information about your typing performance below. For novices, the displayed information is a map of the keyboard. For more advanced users, graphs of the overall speed and error rate and last line speed and error rate are displayed. The timer starts with the first key you type. When you finish typing a line (by pressing the spacebar after typing the last visible character), a new line appears. There is no option for scrolling text. Ten Thumbs Typing Tutor will give visible (red text) and audible (beep) clues for each mistyped character if you selected those options during the setup "quiz." The lesson will not progress until you correct all errors in the displayed line. There is no option that allows you to continue without correcting errors.
Main window with Lesson showing.
Extra Practice offers four options: "Practice worst keys" (based on your previous results), "Import text," "See fingering" (shows fingering for a single key), and "Practice typing keys" (that you choose). "Practice worst keys" creates random strings of characters. For example, my worst keys were @, #, and ?. Thus, my practice lines looked like this: @@##? @?@ ##@@ @??#. "Import text" lets you select any file. Ten Thumbs Typing Tutor strips out non-printing and non-standard characters and then displays the resulting text line by line (just like the lessons). The practice session ends when you reach the end of the imported text. "Show fingering" shows hand and finger placements for typing a character. Placement includes the use of the Shift key when relevant. "Practice typing keys" is the same as "Practice worst keys" and consists of random clusterings of the characters you chose.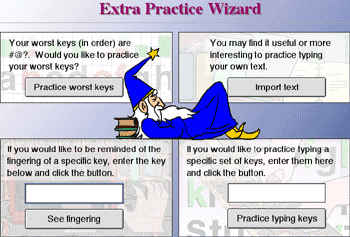 Extra Practice
The Safari Park game has a boat being rowed and sailed down a meandering river. There are four bridges that will block the boat unless you correctly type the characters in the turtle or alligator boxes. At higher levels, the boat moves faster. At lower levels, the game is incredibly boring. Even if you complete all the typing in a few seconds, you have to wait for the boat to slowly wend its way across the bottom of the screen. Ten Thumbs Typing Tutor does not remember the last level you achieved, and there is no way to start at a higher level. You also have no control over the characters to be typed.
Safari Park
The Brick Factory game has character-containing bricks falling on the left side of the screen. If you correctly type all the characters, the brick is sucked into the machine to the right. If you fail to type the characters quickly enough, the brick lands on a conveyor belt and is discarded onto a pile. When the pile gets too high, it falls over and you lose a life. Brick Factory makes little sense. Even at the lowest level, a brick can contain up to 12 characters. Other bricks may have only two characters. Character strings are usually words, words plus punctuation, or number strings.
Brick Factory
The Options window gives only three options related to the background (black or off) and to music and sound. To change other characteristics of the program, you must retake the setup "quiz." I found this to be a cumbersome and annoying process.
Help
The Help window contains a list of seven topics in an upper window and information on the selected topic in a lower window. I found this section unhelpful.
Report window immediately after completing a lesson.
The Report window summarizes the results of your last lesson or activity. There is no way to review previous reports. The Report window has a different format if the button is clicked immediately after launching (or logging in as a new student) Ten Thumbs Typing Tutor. This "Student History" report summarizes overall progress.
Progress report for a student.
Problems and Bugs
I crashed while playing Brick Factory when I accidentally pressed the Return key. The crash required a forced restart under OS 9.
The ReadMe file warns that you should not change monitor resolutions while the program is open.
Omissions
The biggest omission is that Ten Thumbs Typing Tutor does not follow Macintosh interface guidelines. This program feels like a crude port from a Windows version. It does not use Macintosh menus or dialog boxes.
Ten Thumbs Typing Tutor does not offer any typing tests (separate from lessons or imported text). Other omissions are mentioned in the "Using Ten Thumbs Typing Tutor" section.
Documentation
Ten Thumbs Typing Tutor comes with a short ReadMe text file. No other documentation (except for the meager contents of the Help window) is available.
Technical Support
E-mail support and fax support are available. There is no live telephone or online support. I did not test the rapidity or accuracy of e-mail support.
Alternatives
Mavis Beacon Teaches Typing version 9 is available for $20 from Broderbund (North America) or from Mindscape (Europe, Asia, Latin America). Mavis Beacon Teaches Typing is far more polished and complete than Ten Thumbs Typing Tutor. I have used an older version for years and recommend it highly.
Typing Tutor 10 (Pearson Software) is no longer published but is still being distributed by many vendors (including Amazon.com). It sells for around $20. I haven't used it, but it got very good customer reviews on Amazon.com.
Disney's Adventures in Typing with Timon & Pumbaa (Disney Interactive) also is no longer published but is still available. It sells for around $10. It is designed for young novice typists. My daughter used it last year (when she was eight years old) and liked it.
Roller Typing (Edventure Softare) uses the sport of rollerblading as a theme for typing skill games. It lists for $30, but its street price is around $25.
Jumpstart Typing from Knowledge Adventures (distributed by Vivendi Universal Games) is part of the Jumpstart educational software series. It is designed for children in grades 3-5. It is available from Amazon.com for $10. A new version, Jumpstart Typing 2003, will be available in June for $20.
Summary
Ten Thumbs Typing Tutor feels like a crude port of a mediocre Windows program. It is functional, but other programs are much better and often cost less.