Review: SPSS 11.0

Developer: SPSS, Inc.
Price: $1,145 (base); maintenance (recommended) starts at $287; upgrade from SPSS 10 for $299; upgrade from SPSS 6 for $499. Academic pricing starts at $599 (base). Many users will need extra modules. Training manuals (recommended) are around $100 each.
Requirements: G3 with 192 MB RAM, 256 MB of hard disk space, Mac OS X 10.1.2. Not compatible with Mac OS X 10.4.
Recommended: 500 MHz G4, 256 MB RAM.
Trial: None
The statistical analysis application SPSS entered the Mac market with a lean, efficient, syntax-driven program. Version 4 would let you use menus, but those menus would simply build syntax on the screen, helping users to use the powerful program as efficiently as possible. It had many deficiencies—among other things, it produced its results in a mainframe-style monospaced font—but it ran rather quickly on a Mac Plus, and helped beginners get used to the SPSS syntax language.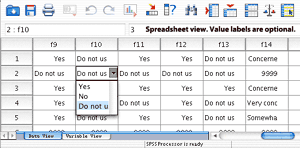 Unfortunately, after a disastrously bad port of version 6—which switched to a more modern menu-driven system, with syntax "also" available—SPSS abandoned its Mac customers.
Then, about two years ago, SPSS contracted with MacKiev to port version 10 over to the Mac. The result was a program with the capabilities of the Windows version, including a wide variety of plug-in modules and good speed. Now, version 11 has been ported over—but only to OS X. If you use OS 9, you must stay with version 10. But those who recently purchased new computers, only to find they cannot boot into OS 9—and that SPSS 10 won't work in the Classic environment—will be very happy about the new release.
As with prior versions, as you slice, dice, and weight data, and pop out scatterplots using the built-in menus, SPSS automatically records your syntax into a "journal," which you can later modify as a kind of macro to quickly run lots of analyses very quickly. I recommend buying the optional syntax guide and typing your commands as often as you can, instead of using the menus. Using SPSS becomes much, much faster that way.
Most of SPSS' capabilities remain from version 10, and I will refer you to that article rather than going back through them.
As with version 10, the major drawback to the program is a long boot time. Version 10 booted in 30 seconds on my beige G3, despite an upgraded hard drive and processor. Version 11 takes 45 seconds on my blue and white G3, with an upgraded hard drive and 400 MHz G4 processor. No doubt it's considerably faster on more modern models. While screen redraws are very sluggish on older machines, calculations are tolerably quick. I suspect the part of the program that actually does the work uses only highly optimized (and probably very old in many cases) code, while the user interface was developed with less concern for processor time. SPSS' Windows origins are otherwise hidden. It looks and acts like a real Mac program, using standard OS routines.
The data, output, and syntax views all have different sets of menus, as they do in Windows: for example, you have to be in the data window before you can use a menu to split the file. This can be annoying, but it does keep the menus to a manageable size.
SPSS has done a wonderful job of maintaining the syntax through all Mac and Windows versions, so that files written for older versions work without a hitch. The data format is also compatible without conversion across versions and platforms, making it easy to share data and scripts with Windows people or users of older Macs. Data is stored in a highly compressed format, in a break from Microsoft's norms of oversized files, but matching SPSS' mainframe heritage. There are only two major issues with compatibility: SPSS 11 for Windows output files cannot be shared with SPSS 10 (or earlier versions) for the Mac, and SPSS' scripting language (not to be confused with syntax!) was not ported over, since SPSS 11 can now use AppleScript.
SPSS 11, like prior versions, also reads tab-delimited and fixed-format ASCII text and Excel files. Output files can be saved as HTML for posting on the Web. SPSS also sells programs that allow other people to view the results and delve deeper into the data.
SPSS also deserves credit for porting over just about all the modules available under Windows, so Mac users aren't faced with overpriced crippleware. Indeed, the prices match the Windows versions, despite porting costs. The main deficiencies of the Mac version, compared with Windows, are being one-half version behind (Windows is up to 11.5); missing features include not being able to directly import SAS files, the loss of the Method subcommand of Crosstabs, and three subcommands of nonparametric tests (both of the latter are missing from the optional Exact Tests module).
New features include direct publication to the SmartViewer Web Server, an extra-cost option that allows quick and easy dissemination of results throughout an organization (or to the world). Data can now be restructured so multiple cases can form a single case, or vice versa, which will save some researchers incredible amounts of time and nuisance. A database wizard can recode string values to numeric variables, obtain random samples, and do other clever, time-saving tasks that once required workarounds or other software. Other clever features for quickly rearranging data, such as the innovative pivot controls, remain.
The optional and very handy Reports module now produces modern output, with tab-delimited tables instead of the old monospaced fonts. It's still only camera-ready if you're not very particular, but it's much better than in the past, and individual tables can quickly be modified for acceptable results. The Reports module can save a great deal of time when, for example, analyzing survey data. This and the Advanced Statistics modules are almost "must-haves."
The OLAP cubes facility has been upgraded to allow calculation of differences between variables. Those who hate scientific notation will be glad to know it can now be suppressed in all output. This upgrade does not just deal with system software and appearance issues; a number of statistical upgrades were also made. These can be explored fully on SPSS' Web site, and may affect a surprisingly large number of users.
Most people will probably export SPSS tables and charts to other programs for publication, usually by copying and pasting to the other application, but SPSS 11's tweak to output tables—adjusting the column width to match output—makes it easier to simply save output as PDF (or HTML) and use it without modification. This may be the greatest time-saver of the new version for some people.
While SPSS seemed stable on my system, an early blue and white Power Mac with only 448 MB of RAM and a 400 MHz G4 upgrade, I did experience a corrupted preferences folder which required re-installation (resetting permissions did not help), and the program seemed to lock the Command key down at times. Syntax pasted in from the Classic Scrapbook did not work properly and had to be retyped, though syntax from older versions ran well when opened normally. In extended testing, SPSS sometimes crashed when being closed, and some parts of the output sometimes refused to use certain fonts.
SPSS 11 makes it easy to take heavy-duty statistics into the world of OS X. The fact that SPSS 10 and 11 are mutually exclusive also makes it easy to decide on upgrading—if you stay in OS 9, you cannot use SPSS 11, and if you move to X, you have to.
Because SPSS has such a slow interface, I strongly recommend that you do not use it with older machines or less powerful laptops. A 700 MHz G4 or above is just about required for tolerable speed, and a faster processor is really needed to make the program enjoyable in everyday use. If that means staying with OS 9, it may just be worth it to keep the relatively snappiness of SPSS 10. Version 11 does not add enough new features to justify an upgrade for many users (except, as noted, for OS X compatibility, which is downright needed for those with machines that won't boot into 9).
SPSS 11 is capable, fairly user-friendly, and easier to work with than previous versions. The number crunching is very fast, and the reports increasingly easy to use in presentations and articles. It is no small wonder that SPSS 11 is still the market leader in professional statistical analysis.