Review: Pocket Tanks 1.00b

Developer: Cornerstone TSP Games
Price: $15.99
Requirements: Mac OS 8.6 or Mac OS X 10.1, 800x600 resolution
Recommended: 233 MHz G3
Trial: Feature-limited (no Deluxe version features)
Whether or not you remember the classic game of warfare called Scorched Earth, you can now enjoy it on your Mac in the form of Pocket Tanks by Cornerstone TSP Games.
While the premise—two tanks shooting at each other—remains the same, there are plenty of options to keep even seasoned veterans interested. The variables you can change include wind, terrain, and explosion size. Although none of these options are revolutionary, Scorched Earth would not be the same without them and Pocket Tanks delivers the goods.
Now for the most important part: the weapons. The freeware version of this game comes supplied with thirty weapons, the vast majority of which are offensive. Each player has ten weapons to choose from out of a randomly selected twenty; the final ten can also optionally be randomly selected. The purpose of the game is to outscore your opponent using the weapons you've chosen.
Weapons Selection Screen
As expected, scoring is based on a combination of the vicinity of the explosion and the power of the weapon. Some weapons are more useful than others, but of the thirty included in the freeware version, only Tracer could be considered completely useless.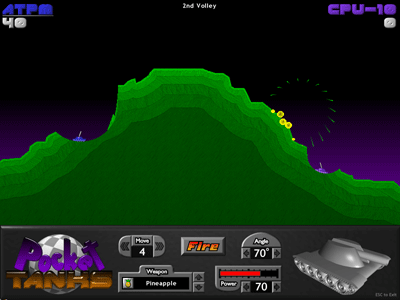 Beware the Pineapple!
Pocket Tanks is fun. It is easier to waste away an hour or two with this game than one might think. The graphics and music are solid and appeal to the eye and ear. Strategy buffs will enjoy the closer matches, and explosion fanatics will revel in destroying their buddy's tank.
ATPM Wins Again!
I do however have a few gripes about this game. Even with ten levels of difficulty, I find myself winning at the hardest level nine out of ten times, whether I choose the weapons myself or let the game do it for me. A four-player mode would be nice as well, although I might just be being picky. But if anything, I must stress this: not everyone will like this game. Regardless of its features, some people (my fiancée included) will think this game is boring and stupid.
All the Deluxe version offers is thirty extra weapons and the promise of future weapons expansion packs. There are no additional options or harder difficulties. If you think it is worth the money, then by all means, update to the Deluxe version; I, on the other hand, have plenty of fun playing the free version.
For those who love Scorched Earth, Pocket Tanks is a version worthy of your time. Although I don't think the Deluxe version is worth the money, the freeware version makes a terrific download.