Review: Dark Colony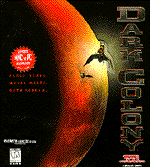 Product Information
Published by : SSI
Web : <http://ssionline.com/>
Street Price : $20

System Requirements
Any PowerPC Mac
24 MB RAM (including VM)
10 MB hard disk space (66 MB recommended)
4 x CD-ROM
TCP/IP for network play (no IPX, Modem-Modem, Serial, or AppleTalk support)Supports PC vs Mac multi-player, up to 4 players. CD not required in drive for net play.

(Note : Dark Colony is rated Mature 17+ for bloody images in the cut scenes)

The aliens have landed! And they're set to plunder and exploit the newly terraformed planet Mars just as they did with their home planet of Earth.

That's right, this time you're the invader. Strictly speaking, both sides in Dark Colony are the invaders--both the humans and the conventionally alien Taar. The humans are there to exploit the natural resources, particularly one called Petra-7, which is a very powerful, but less-than-reliable, energy source. The Taar--who look like the ubiquitous "Greys"--are there because their home planet was hit by a plague that nearly wiped them out.

Both sides are eager to wipe out the other--and, as is the usual case, you can choose who you want to kill.

Dark Colony was released a little while back on the PC side and was swamped by the masses of other real-time strategy games that were released around the same time. As such, perhaps unfairly, it sold poorly and was lost in the pile. SSI released the Mac version at a much lower price to try to boost sales and included the Win '95 CD in the same box so that you can kill and maim your PC-owning friends. And who doesn't want to do that once in a while?

The game runs along the same lines as most RTSes. You start a level with a given mission, which is usually to kill all the aliens (or humans) and destroy any and all of their bases. Occasionally, you'll be given a different mission that will involve finding artifacts left behind by another race many millennia ago. These artifacts, once found, become more commonplace in the other missions and can be dug up for some serious firepower.

Each side is equipped with a collection of potential troops, though in true Warcraft style you don't get immediate access to them all. Instead, you're introduced to them gradually, and only in the last 5 or so levels for each race do you get to play with the whole gamut of killing methods available. They range from the simple trooper, through flying scout craft, heavy artillery, buried mines, and genetically engineered troops that can drop napalm. The humans are very technologically-minded, with great hulking machines and MechWarrior[TM]-like walkers, while the Taar are biological experts creating and using a collection of vile and fearsome creatures instead.
However, each and every unit has its identical counterpart in the other race. For example, the humans have their Barrager artillery that fire explosive shells, and the Taar have their Atril creatures that throw "explosive mucous sacs" through the air to the same effect. While each side looks very different, they function identically.

Of course, you don't just build troops and send them off without a care, there is the problem of money. Or, in Dark Colony, Petra-7, which is collected from erupting vents in the planet surface by your Exploiters. These trundle over to a vent spewing Petra-7 and set up shop extracting it and beaming it back to your base.

Dark Colony does not allow free-form creation of your base, and you will be stuck with a standard concrete platform of fixed size for every level. Research and factory facilities are dropped onto the platform in fixed places, and cannot be moved. As such, some of the places you start from are a tactical nightmare, while some make the level a complete doddle. To counter this, somewhat, you can build Firestorm (or Xeno-Wort) units that are essentially mobile gun emplacements. Once you've dug them in, however, they are immovable for the rest of the level.

Most other units have an extremely limited attack range--the Osprey/Ortu flying craft are restricted to vertical bombs, and the Reaper walkers must be standing directly against their target. While this makes sense for the Taar equivalent Sy Demons--big ugly things with claws larger than a man, and teeth to match--it seems artificial and unnecessary for the Reapers who are equipped with front-mounted cannons. Generally this results in a hand-to-hand mob. The exceptions to the range problem are, of course, the artillery, and the SARGE/Gorrem units who can kill from quite a distance.

The game sounds, and plays, very much like "Warcraft"--compared to the later StarCraft which has a very different feel for each race. But comparing it to the newer, and more expensive, StarCraft is neither fair nor accurate. Dark Colony is a consolidation, not an evolution. Besides, Dark Colony does have a few novel points in its favour.

Firstly, there is a day/night cycle of about 10 minutes each, and each race fights better in one of the cycles than the other. Taar, apparently, have eyes like cats and get battle bonuses in the night cycle, while humans left their night vision goggles at home and fight much better in the day. The screen dims to a nice twilight effect during the night, and you can be sure a Taar attack is on its way.

Secondly, the nature of Petra-7 makes the game often a mobile one. Vents erupt, are exploited, and then cease more often than you would have run out of wood and gold in Warcraft. They are also fought over more often because of their distance from a base--Exploiters can transmit Petra-7 across any distance. SARGE/Gorrem units can even intercept and steal Petra-7 transmissions.

Then there's your commander, a unique unit who can inspire the troops to greater efficiency ("Make 'em bleed!"), and call in reinforcements from orbital drop ships. The commander gains power and skill with the more kills he makes, or the troops around him make, so he is always in the thickest of the fighting. In the case of the Taar, rather than call in reinforcements, the commander can call in a saucer to abduct human troops right off the planet. Now you know what really happened to Samantha...
And finally, there is the terrain. Dark Colony offers four different terrain types--plains, jungle, desert, and underground. Underground missions mean no Petra-7 and a limited number of troops to use, and as such, can often be the most challenging. It also offers a kind of 3D to its terrain, in that you get ledges and outcrops on the desert scenarios, and troops walking through the jungles can vanish under the green canopy. While there is limited tactical advantage to either situation, it makes a nice change from the pancake flat Warcraft landscape.

Overall, though, Dark Colony comes across as just more of the same. The few new points are overwhelmed by the simple strategy and "Warcraft" feel to it. The lack of difference between the races gives little or no incentive to try the other once you've completed the game under one. The cut scenes, while bloody and violent--there is one with the camera panning up a trail of blood to the maggot-ridden corpse of your commander after a failure--are somewhat blurry and can be very blocky in places.

In game, the graphics are better, clear and effective, though carrying a cartoony feel to them. The explosions are bright, and you can easily follow the trajectory of enemy artillery back to its unseen source. Soundwise, despite the packaging's claim "flesh burns, metal melts, both scream" the game is full of less-than-impressive thuds and gunfire. Trooper screams, when they happen, are thin. The good side is that the units are distinctive in their sounds, so you'll
know who's killing you.

There is also the obvious PC-port nature to it. Mac niceties in the way of open/save dialogs are unknown, and the pointer can lag visibly behind where the mouse really is. Lacking a right mouse button, SSI assigned all right mouse functions to the enter key on the keypad, and it cannot be changed. Unless you're left handed this can be a very uncomfortable way to play.

While there are options to select all of a certain troop type on-screen, there is no facility to assign your own groups to quick-keys. This can mean your troops end up in one mob with artillery and foot-troopers all mixed in uselessly together.

But Dark Colony is not a bad game. It is not a great game. What it is, is "Warcraft in Space", and an OK game.

With the paucity of Real-Time Strategy options on the Mac and the low price, it is worth shelling out for if you're a real RTS fan. It'll keep you busy until Starcraft at least. But for those in the take-it-or-leave-it RTS frame of mind, Dark Colony just doesn't make enough hits to make up for the misses.

Copyright ©1998 Martin Cox <mcox@ihug.co.nz>. Reviewing in ATPMis open to anyone. If you're interested, write to us at <reviews@atpm.com>.