Review: Links LS 1.1


Product Information
Published by: Access Software Inc.
4750 Wiley Post Way
Building 1, Suite 200
Salt Lake City, Utah 84116-2878
Phone: (800) 800-4880
Fax: (801) 596-9128
Web: <http://www.AccessSoftware.com> (demo available -- 9 holes, 28 MB)Street Price: $45; additional course packs for $18

System Requirements
PowerPC 6100/66
System 7.5.1 or higher (7.6.1 recommended)
16 MB RAM (20 MB free RAM recommended)
40 MB of free hard disk space (200 MB recommended)
2x CD-ROM (4x recommended)
800x600 resolution (1024x768 recommended)
Thousands of colors
OpenTransport 1.1.2 or higher for AppleTalk or Internet play
14.4 K Modem for Modem/Serial recommended, slower might workMacIPX for IPX play

Golf for the Rest of Us?
I don't like golf. That is, I didn't like golf. I always thought it was boring. I rarely leave my computer anyway, and if I do then it's just to get some food and sleep. You know, those computer golf simulators all have crappy graphics; they are boring and far from being realistic. Wrong. Links LS really got me fascinated.

Links LS is just not any golf simulator. It is the king of all of them. It features a dazzling list of features:
high resolutions of up to 1600x1200 and higher, if VRAM allows it, at 16 million colors
3 18-hole courses with very different and beautiful landscapes
4 different player "personalities"
multi player capabilities: Internet, AppleTalk, Modem, Serial, IPX, and file sharing
fly-through movies of the courses
highly realistic graphics
realistic physics
multiple camera views: top view, side view, green view, chat view, profile view and custom views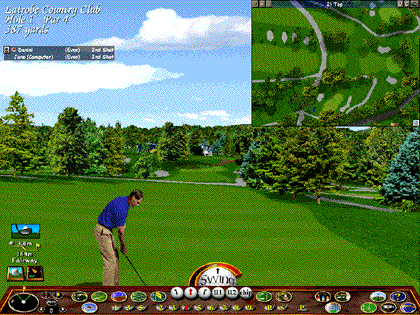 Arnold Palmer's Country Club Course

So Links LS is the ultimate golf simulator for all of us? Not quite. The system requirements leave out a lot of people. First of all you will need a PowerPC. Secondly, and most importantly, it requires 800x600 resolution in thousands of colors. This throws out many users. Access Software is considering to make an update that allows 640x480, but they say the program is not laid out for such a low resolution. Thousands of colors are required so you can enjoy the quality of the graphics. 20 MB of free RAM are recommended for good performance.

The interface violates all Mac standards, but at least it is pretty and intuitive (after a while). The game rarely gets boring because of its large set of features. The standard pack (3 CDs) includes 3 golf courses:

The Kapalua Plantation and Village courses on Maui, as well as the Latrobe Country Club. They feature a variety of landscapes with magnificent views. The scenery is very detailed. Each course features a fly-by movie that shows you the actual holes and gives comments and hints about the course. Another movie shows you the local facilities. Also included is a virtual reality tour of the local resort and golf shop. Ambient sounds make the courses feel real.

The golfer can play against other humans or computer opponents. There are four factory players that can be custom configured: the famous Arnold Palmer, as well as a young man, a young woman, and a middle-aged man. Each character has its own graphics, skills, comments, and sounds. When they make a bad shot, they show their anger. It is very amusing.

Courses, characters and other add-ons can be expanded by buying additional course packs. Various golf variants can be played: simple practice, stroke, best ball, match, and skins.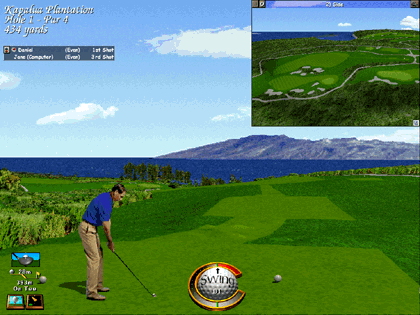 Kapalua Plantations Course

Shooting is quite easy. After choosing the direction of your shot, it involves clicking the "swing" button, keeping it pressed, releasing it and clicking again at the right time. The timing determines the strength and other factors of your shot. Optionally, you can alter the positions of your feet and the ball, as well as some more advanced settings. A "post shot selection" gives you statistics about your shot and options to replay, reverse, or save the shot.
An enormous variety of options lies at your finger tips

The quality of the game is very high. However the redraw speed was slow, even on my G3/266 with 36 MB of RAM at 1024x768 and thousand colors. Still, it's a lot faster than actually walking up to the ball!

A 72-page manual explains all aspects of the game in full detail and with many screen shots. I wish all games had such a handbook.

Links LS makes playing golf at the computer quite enjoyable--even for non-golfers. The reality of the courses and the varied characters of your opponents, as well as the virtually limitless expandability guarantee long hours of fun if you have a machine that qualifies to run the game. Finally, golf doesn't have to be boring!
Copyright © 1998 Daniel Chvatik, <daniel@callypso.com>. Reviewing in ATPM
is open to anyone. If you're interested, write to us at <reviews@atpm.com>.