Review: FAXstf Pro 10.0.1 & Page Sender 3.0.1
FAXstf Pro 10.0.1
Developer: Smith Micro Software, Inc.
Price: $90 (download); $105 (boxed)
Requirements: G3-based Mac with Mac OS X 10.2, 30 MB available RAM.
Trial: None
Page Sender 3.0.1

Developer: Smile Software
Price: $30 (download)
Requirements: Mac OS X 10.1.3.
Trial: 20 documents or 30 days
David Faxes Goliath
Something I've complained about for years is the lack of competent fax software for the Macintosh. If you're an OS X user, however, I'm glad to report all that has changed thanks to the existence of a beautifully crafted shareware program called Page Sender 3. That's right, I said shareware.
I recently had a great opportunity to find out just what the software was made of when I was forced to field test it, along with a more expensive and better known fax product. The results shocked me, although in a positive way.
Sleepless in Spokane
Last month I spent a couple of weeks in Spokane on personal business. I knew I would also have to do some music work while there. (In addition to my Macintosh consulting business, I have been a professional music copyist and orchestrator for decades.) I have been working on an album project for the last couple of months, and discovered, right before leaving for Spokane, that string sessions had been scheduled for the following week. The only logical solution was for the arranger in Los Angeles to fax me his arrangements, and I in turn would produce the parts for the string players and FedEx them back to him in time for the sessions. I had taken our trusty G4 Titanium PowerBook that had my music software on it, and also sent up a spare HP 4MV tabloid-size printer, proper heavyweight, music-sized paper, and plenty of Scotch tape. The success or failure of the endeavor rested, however, solely on the abilities of the fax software I would use.
Too bad I'd never tested any of the programs before I left! In my haste to get ready for the trip, I didn't have the time. The thing is, since I have a dedicated fax machine here at the house, I have never needed a software-based fax program. I've flirted with them over the years and disliked all of them: now, my professional reputation would be tied to how well they worked (or not).
I had brought with me installers for two different fax programs for OS X. The first was the highly-touted FAXstf Pro from Smith Micro; the second was Page Sender. I reasoned that FAXstf Pro would be fine, as the product in some form or another has been around since the beginning of time. Of course, I had detested the software for about as long, but for some reason the eternal optimist in me believed the Pro version would be a different story. Now OS X-native—our Titanium PowerBook was always in OS X except when running my OS 9-only music software—FAXstf Pro had been widely advertised as the "professional solution!" for OS X faxing.
I downloaded both installers and purchased license keys for both before leaving (it's a tax write-off, don'tcha know), and had them both on the hard drive. After arriving in Spokane and making sure the phone line was okay, I installed FAXstf Pro and went about the business of setting it up.
Wrong on So Many Levels
To save you the pain, I won't go into every excruciating detail of why FAXstf Pro was so bad. Instead, I will just cover the highlights of my thankfully short experience with it.
Actually, there's only one fact that matters—the "big deal-breaker"—and everything else is just window-dressing: the software did not receive faxes properly. I had set up and configured FAXstf Pro correctly, and successfully received the initial arrangement from Los Angeles. Per my request, the arranger had written everything out on standard letter-sized paper with a set of five double-staff music systems on each page, which was fine for writing a string arrangement in sketch form.
The FAXstf Pro Browser window looks simple to use, but soon fills up with multiple tabs and sub-windows.
Even though the left and right margins of each page were somewhat truncated, I could still figure out what was supposed to be there, and got to work on the arrangement. I was about an hour in when the pit of my stomach clenched as I realized the bottom system from each page was missing. As in "not there." I called the arranger in L. A. and he confirmed my suspicions. Not only was a good inch and a half absent from each page, but other elements were gone as well. I thought maybe his fax machine was not properly configured to auto-reduce each page to whatever the "faxable area" for his machine was, but he said it was configured properly. I realized this was true because I'd never had a problem with his faxes back home. (Fax machines, when they talk to each other, usually determine when or how they should expand or reduce an image to fit on whatever paper is in the receiving fax machine.) I was forced to ask him to re-fax the same pages again, this time turned upside-down; I then had to work off two copies of the arrangement to get the job done.
A quick check of the feedback page for FAXstf Pro at VersionTracker revealed I was not alone. Scads of people were griping about the same problems I had encountered (along with many others), and had little praise for the software.
Concise Compendium of Misery
Here's a bullet-point rundown of the rest of the problems I found with FAXstf Pro, along with some observations:
FAXstf Pro costs $89.95 for an electronic download or extra for a physical shipment.
Getting rid of the program was as painful as using it. FAXstf Pro's Installer application does not have the ability to uninstall, and there is no mention of it in the ReadMe file. Searching for the topic on the Smith Micro Web site revealed an intricate way of removing all the various components by hand.
The Preferences window has five icons, each of which has its own Save or Apply Now button. There is no way to set all the preferences at once and then save them with one click.
Creating and modifying cover sheets is cumbersome and unintuitive, and can only be done in the Preferences window; there is no separate menu item.

No way is provided to easily import addresses from previous versions of the FAXstf Phonebook to Apple's Address Book, which is what FAXstf Pro now uses. There isn't even a mention of it in the Help file, although again the solution is found on the Web site's Support area. You have to export the old data as tab-delimited text from your old FAXstf phonebook, then—get this—download a separate utility from Smith Micro that is not included with the FAXstf Pro installer, and use it to import the data into the Apple Address Book because it doesn't support tab-delimited text. Considering how long FAXstf has been around on the Mac, this is unforgivable.

FAXstf Pro uses its own proprietary graphics format to create and receive faxes. To use faxes in other applications, you must export them. The program can save faxes as PDF or TIFF files. As I wanted to work with both the PDF file and my music software at the same time, this meant I had to waste time exporting the faxes as PDF files first.
Creating and sending a fax in FAXstf Pro is a daunting task, with a plethora of choices thrown at the user.
To be fair, there are a few positive things about the program: it's probably good for use in large companies or multiple user situations. It can create cover sheets with company logos, etc., and it can export faxes as "Bundles" for backup or archiving purposes; the Bundles contain an entire history of a particular fax exchange between sender and receiver. However, the negatives far outweigh the positives, and overall I cannot recommend the program to anyone for any reason.
Ladies and Gentlemen, We Have a Winner
For the next arrangement, I would try Page Sender. I could have saved myself a lot of grief if only I'd seen this quote from Page Sender user Scott Rose: "This incredible shareware program puts FAXstf to shame! I couldn't effectively switch to Mac OS X until a reliable fax program was released, and now we have one. Cheerful responses within 24 hours to technical support e-mail too."
After removing all traces of the now-reviled FAXstf Pro, I installed Page Sender 3.0.1, and right away I noticed something different: Page Sender uses the popular Installer VISE installation method, which includes a dedicated "Uninstall" function right in the pop-up menu. If I needed to, removing the program would not be a hassle.
The next thing that struck me was how clean Page Sender's interface was, compared to the previous fax program. In addition, I was overjoyed to learn Page Sender uses PDF technology throughout the program. Incoming faxes appear as PDF files automatically, and sent files are converted to PDFs before sending. Cool! Now I wouldn't have to waste time converting files into the format I wanted.
Setting the program's preferences couldn't have been easier, and I was thrilled to find that Page Sender supports several well-known e-mail clients (Eudora, Entourage, Apple Mail, even Claris Emailer) and personal information managers (Palm Desktop, Now Contact, Apple Address Book) so there was no need to get fax phonebook info into anything. Page Sender also supports "live addressing" from most of these applications, so there is no need to open them first or bother with copying, pasting, or importing.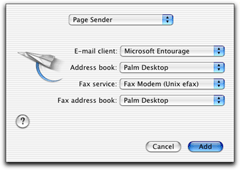 Flexibility is the name of the game when it comes to setting up Page Sender. You can use it with a wide variety of e-mail clients, address books, and PIMs.
After setting up and configuring the program, the moment of truth came as I started receiving the next fax from Los Angeles. I let out a sigh of relief as each page appeared, perfectly formed and eminently readable. Not only were all five systems on each page, the margins were correct as well, with nothing cut off or garbled. Keep in mind the document was sent from the same originating fax machine using the same settings…what a difference! The icing on the cake? Page Sender was also faster at receiving faxes than FAXstf Pro.
The Best of the Rest
If there are any shortcomings to Page Sender, I couldn't find them. Well, perhaps one quibble—you still can't choose the fax resolution. It sends out in "Fine" mode by default, although I understand "Standard" mode will be added soon.
Page Sender creates a fax the same way FAXstf does, by installing a Fax Printer into the OS X Print Center. You then add it to the Print Center and from then on Fax Print appears as a printer choice in print dialogs. There are the same options available for sending a fax, attaching a cover page and such, but they're simply executed better.
Creating and sending a fax in Page Sender is easy because all relevant choices are grouped in one place.
Here are some other notable features of Page Sender:
The program only costs $29.95 as an electronic download—no physical shipment is available (or needed from what I can tell). The program can also be purchased by phone, fax, eSellerate…or from within the program itself, once it has been downloaded and installed. Until that time it runs in demo mode for 30 days.

The hub of Page Sender is called the Fax Center, which features a cleaner, less cluttered interface than FAXstf Pro and is modeled after Apple Mail. The Center allows you to enter a station name as well as a number for Fax Headers; FAXstf still only allows numbers.

The Fax Center is the hub of Page Sender, and resembles Apple's Mail program.

There are more options for what to do with sent and received faxes than the competition, including the ability to automatically generate reports, e-mails, send to a printer or even run an AppleScript. Page Sender has full AppleScript support throughout the software and sports some truly prodigious automation powers.

Here's a peek at some of the automation power found inside Page Sender.

Instead of FAXstf's confusing attachment option, you can attach additional PDF documents to an outgoing fax in Page Sender by simply clicking the Attachments icon in the print dialog and dragging the desired PDF to the list. What could be easier?
Page Sender supports all OS X fonts, even Chinese, Japanese and Korean fonts. It also supports oversized faxes—both sending them and receiving them—from Omnifax and other larger-format fax machines.

Finally, Page Sender supports all major electronic fax services such as eFax, jConnect, EasyLink, and MaxEmail. If your phone-line faxing days are over, this is the software for you!

All major e-fax services are supported in Page Sender, unlike its competition.
Heartfelt Admiration
As Mac users, we are used to being considered "underdogs" when it comes to the larger world of computers. Maybe that's why we gravitate toward small, innovative software companies that run circles around large, monolithic ones. Or maybe it's simply that we recognize quality software when we see it. In any case, Page Sender is a classic case of the little guy with the better idea winning out over the well-established leader. My heartfelt thanks goes out to Greg Scown and the good people at Smile Software for finally making quality fax software a reality on the Macintosh.