Review: Virtual PC 5.0

Developer: Connectix
Price: $99 (with DOS); $199 (with Windows 98); $249 (with Windows 2000); $79 (upgrade).
Requirements: G3- or G4-based Mac with Mac OS 9.1 or Mac OS X 10.1. See Connectix.com for detailed RAM requirements.
Recommended: As much RAM as possible.
Trial: None.
Overview
Virtual PC (VPC) emulates Intel Pentium-based hardware. For Mac OS 9 users, version 5 is only a minor upgrade from version 4 (see my review of VPC 4). It adds almost no new features and is no faster than version 4. The reason for the version number increase to 5 is that native support for OS X is provided. VPC 5 runs under OS X where version 4 did not run at all (even in Classic). Don't get too excited, however. VPC 5 under OS X is about 30% slower than under OS 9.1.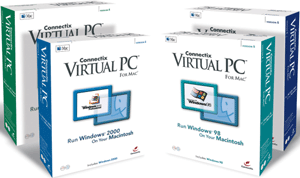 Virtual PC 5 Family
Installation
For OS 9 users, a new VPC 5 installation simply requires you to launch the Virtual PC Installer on the CD. You designate a location for the installation, select "Easy Install" or "Custom Install," then click the Install button. When you first launch VPC, you must enter your name, organization, and the lengthy VPC serial number. The Windows 98 version opens Windows, which then requires you to enter the lengthier Windows 98 product ID key. Windows then looks at your "hardware" configuration and completes its installation process. Installation under OS X is just as easy. OS X users who wish to run VPC 5 under OS 9 or OS X should install the program in OS X. It will be available to OS 9 if you reboot into that OS.
A new feature of VPC 5 is that you can upgrade a previous version of VPC using the full version. (With VPC 4 you needed to use an upgrade version, not the full version. This was annoying to someone like me who had VPC 2 with Windows 95, and purchased the full version of VPC 4 with Windows 98. I couldn't upgrade my VPC 2 Windows 95 setup.) You must eliminate any saved VPC states before upgrading. The VPC Installer works as described above. It adds your previous version's set-ups to its list of "virtual machines."
New Features Compared With VPC 4
Support for Windows XP.
Ability to completely undo a Windows session.
Ability to change video resolution of the Windows virtual machine by resizing its window.
Support for DVD-ROM (not DVD video).
Native support for OS X.
Using Virtual PC 5
This is essentially the same as under VPC 4. You assign RAM and other properties to each virtual machine.
VPC Settings Window
VPC 5 can run as a resizable window or in full screen mode. (The key command to toggle this has changed to Command-Return.) You can always view Mac OS menus and the VPC 5 toolbar by holding down the Command key. VPC 5 continues to offer extensive AppleScript support, including recordability and the ability to launch Windows programs.
VPC 5 Toolbar Icons at Lower Right of Window
VPC 5 List Window with Two virtual Machines
Speed Benchmarks
Under OS 9, VPC 5 has nearly identical benchmark scores as VPC 4 when testing with PassMark Performance Test 2 under Windows 98. Connectix claims that users running Windows 2000 will get better performance from VPC 5 compared with VPC 4. Benchmark speeds under OS X are 20-35% slower than with OS 9. Connectix has provided information on why VPC 5 is slower under OS X. Connectix hopes to work with Apple Computer to get around the performance problems caused by preemptive multitasking.
Virtual PC 5 Problems
I encountered almost no problems with VPC 5 under OS 9. Bugs that affected VPC 4 have been fixed. OS X users have encountered more problems, which isn't surprising since this is the first VPC version for OS X. Besides the slow speed, OS X users reported crashes and freezes related to inserting CDs or DVDs, waking PowerBook computers, and using certain USB devices. The first two problems were fixed with the 5.0.1 update. The USB problem will be addressed by updating OS X to 10.1.2.
VPC 5 Help Window Showing Major Topics
Documentation
VPC 5 ships with a skimpy 28-page printed manual (also included on disk as an Acrobat PDF file). VPC 5 (like its predecessor) includes the Apple Guide file "Virtual PC Guide." However, this file (accessed from the help menu of VPC) actually launches a Help Viewer document, not an Apple Guide document. The Help Viewer document contains information that is not in the printed manual, but it is no substitute for a good manual. VPC 5 does not even include the PDF-based AppleScript dictionary that came with version 4.
Technical Support
Connectix offers free phone (toll call), e-mail, and Web-based technical support. Updates can be downloaded from the Web site.
Strengths of Version 5
Easier to upgrade from previous versions.
Support for Windows XP.
Can run in native mode under OS X 10.1.
Same strengths as VPC 4.
Weaknesses of Version 5
Slower under OS X.
Same weaknesses as version 4, except serial printer bugs were fixed.
Summary
VPC 5 is the best way to run Windows on your Macintosh, unless you play 3D games in Windows. (You have to stick with VPC 2 or 3 for 3dfx hardware support.) Installing and running Windows on your Macintosh computer using VPC is much easier than on a PC. (Unfortunately, it's much slower.) Mac OS 9 users who have VPC 4 will gain very little from upgrading to VPC 5. The new features are not compelling unless you need to run Windows XP or need to use DVD data disks on a VPC virtual machine. Mac OS X users of VPC 4 will benefit by upgrading to VPC 5. VPC 5 is compatible with OS X and allows you to run VPC in native mode. Although VPC 5 under OS X is slower than under OS 9.1, you gain the advantage of not having to reboot under OS 9 to use VPC. If you need the extra speed you can reboot under OS 9 and still use the same VPC set-ups.