Review: TypePad

Developer: Six Apart
Price: from $5/month
Requirements: Internet connection.
Trial: Fully-featured (30 days)
Weblogging, or blogging for short, is the practice of updating a Web site frequently—akin to a Web-based journal of sorts. Everyone's doing it: bloggers everywhere are posting news, opinions, thoughts, snippets of their life, photos and more. Best of all, you don't need to be a Web wizard to start a weblog; if you're not interested in hosting a weblog yourself, there are a plethora of services available that let you build and maintain your weblog with a minimum of fuss.
Currently in its preview release stage, Six Apart's TypePad promises to be the cream of the crop when it comes to hosted weblog services. Based on the Movable Type platform, TypePad adds a whole swag of features and versatility that Movable Type users normally only get after installing a bunch of plug-ins and hacks. What really sets TypePad apart, however, are the numerous small but very cool improvements on the standard offerings out there.
Getting Started
Starting out with TypePad is a piece of cake: just choose a user name, sub-domain name (such as yourname.typepad.com) and an appropriate pricing plan, and you're on your way. There's a 30-day free trial, which you can cancel at any time, and no charge until the 30 days are up. Once in the system, you'll start by creating your first weblog: it's as easy as filling in a form.
Posting, setup and maintenance are only a click away from TypePad's Weblog Overview screen.
TypePad's slick interface and easy controls make the process of designing your weblog's layout and content a quick and painless effort. The built-in templates offer a wide range of layouts, all written in attractive, quick-loading, standards-compliant HTML—no crusty JavaScript or broken hacks here. TypePad's Plus- and Pro-level accounts let you dig deeper into the layout: you can alter styles and layout in Plus using a drag-and-drop interface, and Pro users can utilize special tags and custom templates for extremely fine control over every element of their weblog's design.
Drag and drop your weblog's contents around for control over the layout.
Weblogging
When you've tweaked everything to your heart's content, you'll undoubtedly spend most of your time posting updates. TypePad's posting screen is straightforward, but can be customized to show more fields and options for finer control. You can optionally file your post under a set of categories, use the TrackBack system to send messages to other weblogs when you post about them, add keywords and an excerpt for syndication, or allow users to add comments. If you want to have posts appear later, they can be scheduled to do so: TypePad won't publish them until the date and time you set.
If you can write an e-mail, you can post to TypePad. The HTML to display an image is created for you as soon as you upload the image.
Uploading files is as easy as can be, with no more worries about whether you got the URL and HTML right: TypePad can generate the necessary HTML for you when you upload an image. Even cooler still, it recognizes whether your layout will permit an image of that size, and offers to create a thumbnail sized accordingly.
For road warriors, one of TypePad's neatest features is an easy way to set up mobile settings. Users of the Plus and Pro plans can post images and text from a mobile device using e-mail, with their choice of identity verification—using a "secret" random e-mail address at typepad.com, responding to a confirmation message, or using a PGP signature.
Bookmarklets live on the bookmarks bar of your browser, and offer a quick and easy way to post items to your TypeLists or weblogs. When you're at a Web site and you'd like to post a weblog entry about it, just highlight any text you want and click the Bookmarklet in your Favorites tab. It'll open up a new TypePad posting window for you, with the URL of the page already filled in and the text you highlighted.
Highlight and click—you're ready to post.
Meanwhile, more prolific bloggers will be pleased to know that you don't need to log into the TypePad Web site every time you want to post. The third-party tools that work with Movable Type work extremely well with TypePad. Users of the full version of NetNewsWire or the freeware Kung-Log, among others, can use those applications to manage their weblog posts without ever having to touch a Web browser.
The aforementioned mobile posting settings are also a handy thing: naturally, you don't have to use a mobile device with these features, and you can use those settings to post to your weblog from your favorite e-mail application. (It's also a neat way to blog from work and appear as though you're writing some terribly important memo, but I didn't tell you that.)
Photo Albums
Who doesn't want to share their digital photos? TypePad allows its Plus and Pro users to create photo albums, again with a selection of very nice layouts and styles. Uploading images with the album tool offers a load of great features. It can extract any EXIF data from a photo you're uploading and automatically insert the date and time it was created, generate nice square thumbnails, and scale larger photographs to a more manageable size. Once you've created an album, you can display a thumbnail of your latest addition on your weblog's sidebar.
Doing something similar in TypePad's nearest relative, Movable Type, takes a fair amount of fiddling with templates and isn't anywhere near as simple as this. You could use a third party tool like Gallery, but it doesn't offer the same level of integration with your weblog. There's nothing quite as slick as this.
Photolog like the pros in five minutes flat.
TypeLists
This very cool feature of TypePad absolutely blew me away. There are four types of TypeLists you can create: People, Links, Music, and Reading. Adding a new item is simple. With the Music TypeLists, entering the album and artist grabs the album thumbnail from Amazon and places it in your sidebar along with a link to the product. If you use an ISBN number to add a book to a Reading TypeList, it does the same, and grabs the full title and author while it's at it. If you've entered an Amazon.com Affiliate ID in your TypePad profile, it puts that ID in the link to Amazon. Adding a URL to a Link TypeList grabs the page's title right out of the HTML, and adding a URL to a People TypeList gets the information from metadata embedded in the page, if it's supplied.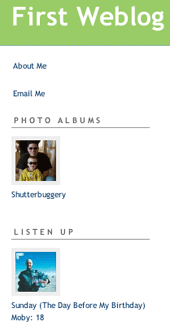 A weblog sidebar, with a photo album and a TypeList.
You can display TypeLists in the sidebar of your weblog, so that everyone knows what you're reading or listening to, or who your Web buddies are. You also have quick access to your TypeLists in the TypePad Bookmarklet, so you can quickly add links to your Links or People TypeLists, or books and CDs to your Reading and Music lists.
What's the Damage?
TypePad's subscription pricing comes in three stages: the basic service at $4.95 per month gets you one weblog; the Plus service at $8.95 offers three weblogs and more bandwidth and Web space; and Pro at $14.95 lets you create an unlimited number of weblogs, and gives you even more bandwidth and Web space, plus the ability to use the more advanced design and posting tools. You receive a 30-day trial plus the choice of paying monthly or yearly—yearly subscription gets you two months free—and you can change up or down a plan whenever you like. There's currently no free option at all, although TypePad's FAQ tells us that a free version may be on its way.
Compared to a "real" Web hosting account, this pricing isn't terribly competitive. On the other hand, you don't have to worry for a minute about setting up scripts, messing with FTP, or figuring out how to use a Web editor like Dreamweaver, so in effect you're paying for a very nice hosting package and having it all managed for you.
Cheaper or free services are definitely out there, but none comes anywhere near the experience you receive with TypePad. Users of free services in particular have to be prepared to spend time tweaking some very ugly templates, breaking things, swearing at the screen, and putting up with obtrusive banner ads and anaemic feature sets. With TypePad, you'll be blogging like the experts in no time flat.
Conclusion
This is a great service, and the best part is that it promises to get even better. Even though it's still only in a preview release, its ease of use, feature set and general smoothness blows its nearest competitors right out of the water. While TypePad's FAQ says that the Plus account is better if you're "comfortable with weblogs but not interested in managing technical details," it's certainly not beyond the reach of the blogging newbie and represents the best choice in terms of value for money.