Review: Sling Pack

Developer: Incase
Price: $50
Requirements: does not fit 17" G4 PowerBook.
Trial: None
What Came Before
Chris Turner has the right idea. A product like a computer bag should simply be judged on its own merits. Nevertheless, I would not be serving justice to why I chose to review the Sling Pack without stating that I nearly sprung for the TiBag. Something, however, told me to look around a little bit longer.
A Short Detour
You have to understand something about me, so I must share a little history before I start delving into the Sling Pack. My 15" 1 GHz G4 PowerBook is my sole machine. I'm one who is content with a laptop's capabilities and doesn't need a desktop tower. The bag I have used to date (and, admittedly, will continue using frequently) is like a portable office. Sure, it's rather large and heavy to someone not used to it, but it does fit under an airplane coach seat and even has wheels and a retractable handle.
Items living in this case include a spare battery, A/C adapter, a plethora of various cables and adapters, a few CD slip cases, blank CD-Rs, a Podium CoolPad (I can even leave the risers attached), my checkbook, my ever-present bottle of Advil, and (the real oddball item) a Netgear MR814 Wi-Fi router. Its slim design is the perfect size for my big bag. I frequently find myself wanting to borrow bandwidth from friends or family whom I visit—people who have broadband but only a single computer attached directly.
I like my big bag. I've learned to ignore a friend's razzing about always carrying such a burden. Yet, I increasingly find myself in situations where something smaller—even hands-free—would be smart.
I began considering backpack-style cases about a year ago, but my initial considerations were short-lived. One year ago this month, I was a passenger in a pretty nasty auto accident. I'm fine now, thanks for wondering, but I came out of it with an injury that prevents me from bearing much weight on my right shoulder for extended periods of time. Indeed, I've only even been able to sleep on my right side in the past couple months and, even then, only for an hour or two, tops. In any case, I'm no longer in the market for any product that puts weight on the right shoulder.
The Search Resumes
My desire for a backpack seemed pointless until I was reminded of the TiBag. I was interested, but some things bothered me. Never mind that it's designed to rest on the right shoulder when worn messenger style—I'd have been content to only use it single-strap backpack style. When I really started examining it, though, I felt its design appeared a little haphazard. Granted, I've not held or seen one except in pictures, but the polyester material and its shape seem little more than just an everyday tote bag with a flap. I was sure I could find something more streamlined that might hold just a few more items in exchange for just a slight bit of extra thickness. The ability to close up securely instead of relying only on a flap of fabric to cover my computer was also high on the wish list.
Enter the Sling Pack
Naturally, the left-shoulder design of Incase's creation was the first thing to catch my eye. Personally, I'm a fan of the sleek, angular design versus the tote bag-style TiBag.
Yes, it's designed to be worn slightly crooked. No worries—it still feels extremely comfortable. A sturdy clip keeps the straps together.
Closer examination revealed that the exterior has a very clean-lined look. It's made from a couple of types of nylon, which feel more sturdy to me than polyester—not to mention that they're probably a bit more moisture-resistant.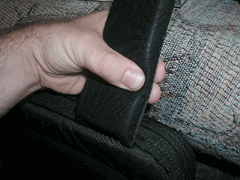 The strap is extremely well-padded all the way around—right up to the clip. I can wear this thing virtually all day.
The exterior zipper pocket provided an ideal location for my big bag's detachable pouch that contains most of my cords and adapters (you can see the long shape of it in the pocket).
Like the TiBag, there's a place for a small accessory device such as an iPod, cell phone, or PDA. Unlike the TiBag, I'm not worried about something falling off or out. The pouch's zipper is secure and doesn't use a velcro strap that could get knocked open. The pouch itself has padding, like the strap, in case of a bump.
Pod pocket.
The back of the Sling Pack also has a zipper pocket. My spare battery lives here. The case material is soft enough that I don't feel the battery against my back. I'd have preferred to put the battery inside…more on that, below.
The rear side is soft against your back.
The Sling Pack scores just as high marks for its interior features as it does for the exterior. The sleeve inside is a perfect snug fit for a 15" PowerBook. Sorry 17" owners, this bag is not for you.
Note the little clip snapped to the edge of the sleeve on the left. Extra touches like this are proof a lot of thought went into this bag's design. A small key ring, for example, can be clipped here and quickly snapped off for use.
Besides the sleeve for a laptop, there is a zipper pouch at the top and two adjacent stretchy pockets below. The zipper pouch is a perfect fit for my A/C adapter and cable. Yet another very nice touch is the slip of fabric that covers this pouch's zipper when closed, preventing the zipper from possibly scratching the computer.
Rather cavernous for such a compact bag.
Companion Products
Incase's product list includes a large variety of other bag types, and the company is reasonably well known for protective guitar cases. A musician friend of mine had previously heard good things of the company, though had never seen the products. As someone I know to be able to recognize a great guitar bag when he saw one, I was happy to witness his "I want one" reaction when he examined the catalog and my Sling Pack, thus helping confirm that these products are well-made.
Perfection Scrutinized
Make no mistake, this bag is wonderful and is attractively priced—especially to those looking at Christmas present ideas for PowerBook-loving acquaintances. Three items come to mind that would complete this bag's perfection for my use, yet I cannot justify any of them warranting a less-than-Excellent rating. None of them are actually problems with the bag—rather a perfectly acceptable design characteristic that I might have done differently.
The interior stretchy pockets will, technically, accommodate a PowerBook battery. Yes, a battery does physically fit, though it's pretty snug. I might feel differently about certain materials and I might be completely incorrect about these pouches' material, but I have a sensation that a G4 PowerBook battery's corners are liable to wear through after plenty of rubbing against the pocket.
Flat items such as a Podium CoolPad will fit in the space between the laptop sleeve and the interior pockets. The space at the very bottom is even spacious enough to hold a CoolPad's stackable risers. However, the Sling Pack's interior dimensions would have to be only a half inch wider to not require careful pressure to get the CoolPad all the way in.
Finally, taking the Sling Pack on and off your back might take a minute or two of practice. A help would be if a small, well-stitched handle strap were added to the top of the bag. These are seen on many traditional backpacks. Such a handle would also aid in transporting the bag shorter distances when putting it on my back isn't practical, i.e. getting it out of my car and carrying it the minute-or-less walk to my office.
Flight-approved
The best test was how the Sling Pack handled through the process of taking an airline flight. For the first time in a couple years, I was able to make my way through the terminal and onto the plane with both hands free. Upon reaching my seat, the bag slipped off and found a comfortable home under the seat in front of me. Once computers were allowed to be used in flight, it was virtually effortless to lift up the edge of the bag, unzip it, and slide my PowerBook straight out—especially when sitting in the slightly larger exit row, but not significantly harder in a standard row.
Thus, my big bag will remain in my arsenal for many situations, most of which involve riding in the rear floor of my car. Without a handle on the top, the Sling Pack may not be the perfect choice for everyday toting around, but for medium- to long-distance travel, when having both hands free is important, the Sling Pack is definitely one to check out.