Review: Snitch 2.5.2
Product Information
Written by: Mitch Jones
E-Mail: <mitch@niftyneato.com>
Web: <http://www.niftyneato.com>
Shareware Fee: $20

System Requirements
Mac with 68020 or greater
System 7 or higher

Maybe this is a familiar scenario: You are asked to open a document that was created about three years ago in who knows what version of some word processing program you think no longer exists. Wouldn't it be great to get more information on this file than you can glean from the Get Info command, or change the identity of the file so it will open in another program?

Well, now it's easy. Just download Snitch by Mitch Jones, and you can get the lowdown on everything on your hard drive. The most current version is 2.5.2. It is available at most major shareware sites that feature Macintosh titles.

According to the developer, Snitch is a System 7.x and system 8.x Finder enhancement that extends the Get Info command, allowing you to view and edit information about a file, alias, folder, or disk. It does this through the use of plug-ins that provide different features, such as editing a file's info, fixing an alias, or examining the preview for a QuickTime movie. Snitch also supports contextual menus in System 8.x, making it easy to access the features provided by the control panel. Snitch's features will continue to grow as more plug-ins are released for it.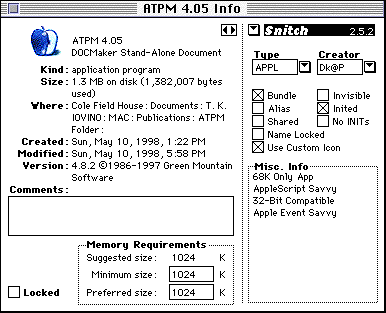 I was thoroughly impressed with the More Info plug-in, which lists pertinent information on documents, programs, aliases, and folders. The pop-up menus next to the type and creator edit boxes contain commonly used types and creators. These menus can be modified to include whatever items you use frequently. Individual items can be removed from these menus by
option-selecting them.

The real magic of Snitch lies in the fact that you can edit these settings in order to open older documents in your current programs, or to modify current documents you may have trouble opening. You can even apply these changes to several files at once using Snitch's batch commands. Of course, you want to be careful poking around with important documents such as, say, the Quicken file of your family's financial records.

Other plug-ins were decent. The alias plug in checks links back to the parent file--a boon if you have a suspect alias, and you want to see what the problem may be. Snitch can also reconnect stray aliases to their parent files. Dates and Sizes is a boon to those looking to identify the creation and modification dates of important files and their exact sizes.

The main complaint I had about Snitch was its installer placing so many files on my hard drive (an extension and preferences files, in addition to the control panel), when all that's required on a 68K Mac is the control panel. I'm just not a big fan of adding more extensions to my startup routine. To me, it's just another potential extension conflict waiting to happen.

Also, some of the plug-ins were quirky at best. For example, the preview plug in failed to locate any preview information on my QuickTime copies of Apple's Toasted or Think Differently commercials. It showed me just the first black frame of 1984. It's a great idea, but the execution still needs help.

I can see some occasional uses for Snitch, but, in the long run, it may not be all that it's cracked up to be.
Copyright © 1998 Tom Iovino, <tiovino@atpm.com>. Reviewing in ATPMis open to anyone. If you're interested, write to us at <reviews@atpm.com>.