Review: Kaleidoscope 2.0
Product Information
Published by: Abbott Systems Inc.
62 Mountain Rd.
Pleasantville, NY 10570
Phone: (800) 552-9157
Fax: 914-747-9115
Web: http://www.abbottsys.com
List Price: $29

Requirements
Color Mac with FPU (math co-processor) or PowerMac
Abbott Systems is a company known for good products, so I was very eager to try Kaleidoscope 2.0, a fractal generator that sounded promising at first. Fractals are computer generated drawings that depend heavily on mathematical formulae to be generated.
When I double-clicked on the Kaleidoscope 2.0 icon, the first word that came my mind was "Windows!" First off, the program uses a weird interface that is definitely non-Mac. The only available option in the upper menus is to quit. Not sure what to do next, I tried on-line help only to find that there was no online help in the main program. I wasn't ready to read the manual as yet, so I tried clicking on the icons in the top window. The first was a somewhat familiar "Close" button. The next button, amazingly enough, was a "Menu" icon, next a "Minimize" icon, and lastly, a "Zoom Window" icon. The bottom commands were pretty vague, which forced me into opening the "Read Me" Manual.
Once I learned the commands (which took minutes), it was time to play. Keep in mind that only few people will find fractal making actually useful. These people are normally professionals with specific needs, which the programmer seemed to have missed! I have listed a few of the overlooked features below:
Lack of MP (multi-processor) support: Very strange especially for a program that relies heavily on FPU (Floating Point Unit) calculations.
The program allows exploration of only the "Julia" fractal set. Isn't this supposed to be a program specializing in fractals?
Another letdown is not an overlooked feature, but a "bug." During my brief use of the program, I noticed that the program tends to glitch sometimes.
Changing the resolution has to be done using the arrows. Why can't a user simply type the desired resolution? A definite time waster. ' No online help. Not having an online help, especially for program with a non-standard GUI (graphical user interface), is very frustrating.
No support for high-end use of images. Kaleidoscope allows images to be saved as low resolution pictures only. This means that they cannot be used in high resolution jobs. However, the manual does describe a way to overcome this difficulty, and I quote, "If you want to have Kaleidoscope images commercially printed (maybe for a poster!), save the desired image as a PICT file, and have your output service produce a 35mm color transparency. Your commercial printer can then use the transparency to print in full color and almost any size you want!" Does this mean, that to use it in a layout, I have to output the image to a slide (costing me more than the program itself) and then scan it again with a drum scanner (again note cost here) to be able to use it? If I really have to do it, I might just do a snapshot with another shareware program and get the job done!
The Ups?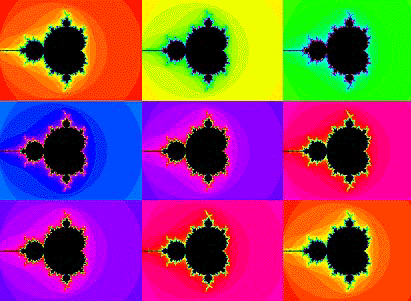 Well, fractals have a very small market, so making a program that covers this niche is an "up" in itself. There is also a nifty minimized floating option.
But do these nice features justify all the flaws? Maybe I will be able to whole-heartedly recommend a future release to all users; but for now I think it better stay where it is, in Abbott Systems.